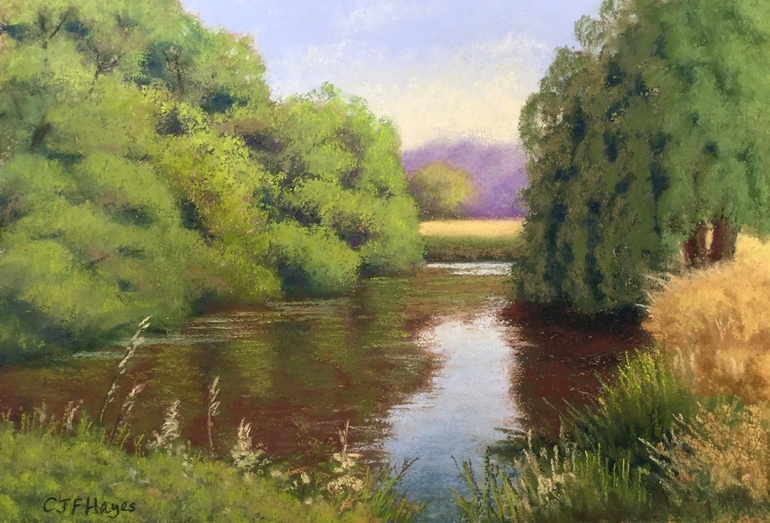 Colin Hayes
After a life-long career in publishing, the second half of it with Cambridge University Press, I started to draw and paint seriously in my 'third age' about 20 years ago.  I was taught privately for several years by James Horton, formerly President of the RBA; was elected to the CDS in 2006 at the first attempt; and continue to practise drawing regularly with the 'Posers' life-drawing group in Cambridge.
Most of my work is a celebration of the East Anglian landscape locally and in North Norfolk using soft pastel, a medium well suited to our big skies and pale colours.  I also draw in sepia ink using the ink as a wash, which works well for old buildings both here and abroad.  I have drawn and painted frequently in France, Italy and Australia.
I am proud to have been selected twice by the RBA for their annual exhibition in the Mall Galleries, London and also by the Institute of East Anglian Artists in Norfolk.  I have exhibited every year since 2006 in Cambridge with the CDS, and have had several successful solo exhibitions at home; also in the south of France and in my Cambridge college Trinity Hall.  I have been shown several times by the prestigious Geedon Gallery at Fingringhoe near Colchester in company with some of the UK's leading artists, and at several art festivals in East Anglia and London.  I have carried out numerous commissions for private clients, usually of their homes or favourite scenes; do please contact me if there is a subject of this kind you would like to discuss.
Website: www.colinhayes.info