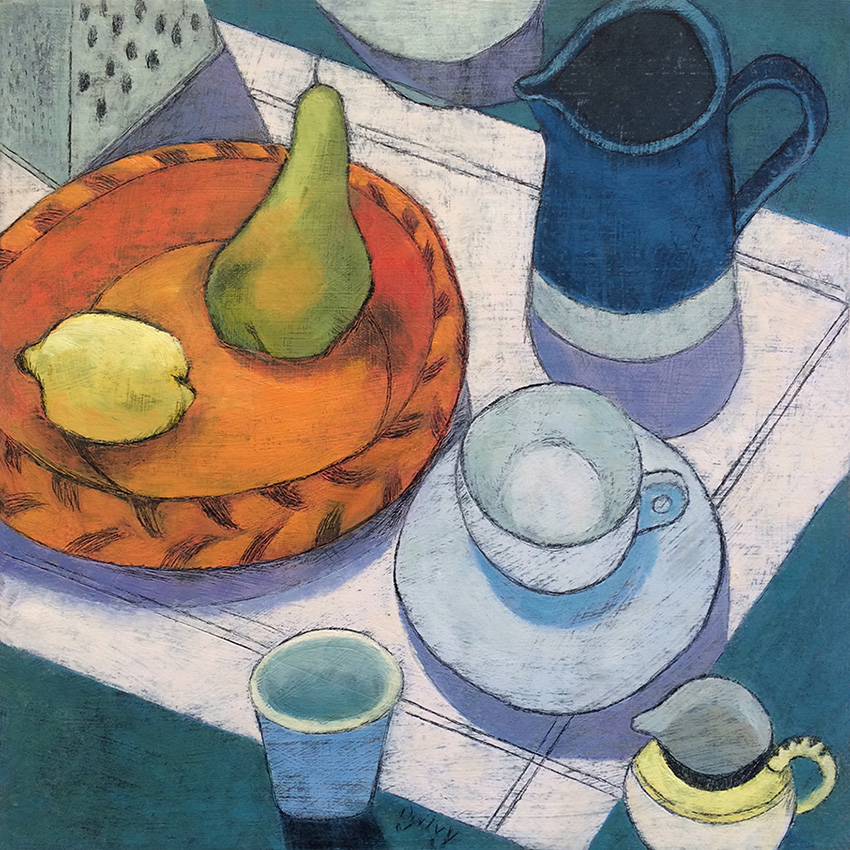 Jill Ogilvy
I am both a painter and printmaker and my subjects include contemporary 'tablescapes' from my collection of containers and tableware of various sorts. These paintings are about identity and relationship, often represented by receptacles such as jugs, bowls, pots and plates. As an Art Therapist, I view a jug, vase or vessel as a container for emotion; my still-life compositions explore the vulnerable inner world of the psyche, and the concept of contained feelings and emotions within the boundary of the vessel. The size, appearance and porosity of such a container can convey something about its strength or fragility. I often like to think of these objects as characters or players in a scene, with feelings and emotions held within or spilling outwards, each with a relationship to the other and perhaps a story to tell. I use favourite jugs and plates as my starting point. Most of the items exist in my personal collection, others are from my imagination; many came from my family and hold a specific memory, others were gifted or made by friends, and some I just love for their shape or colour.
Whatever the assembled objects suggest to the viewer, my aim is to combine colour, texture and pattern to create an overall balanced composition and sense of order. I like to work with a fairly vibrant colour palette; in blues and golds, or reds and greens, but some have more muted tones of greys and browns, depending on the mood I want to convey. Recent lockdown paintings focus on the relationships between objects in my studio, and I note that a window invariably finds its way into these paintings, evoking the feeling of being inside looking out, perhaps born from my longing to be outside.
I also like to paint or make prints of coastal landscapes, from memories of my native Scotland or visits to sunnier climes on the shores around the Mediterranean or further afield. I use a range of materials and techniques in my work, often layering paint, print, and paper collage with wax encaustic media but I also work just with oil paint and oilbars. My seascape images are made with a more spontaneous approach than the more carefully composed still-life paintings. I make monoprints with soft colour transitions rolled and blended directly on the plate, to create a particular atmospheric effect, with light reflecting off calm waters or foreboding, stormy skies. I enjoy the immediacy of this process, which encourages experimentation and I feel, lends a freshness to this work. These prints arise from the distillation of my experiences and observations from many a long hour spent day and night looking out to sea whilst aboard a sailboat, surfing the ocean waves.
Instagram: https://www.instagram.com/jillogilvyartist/