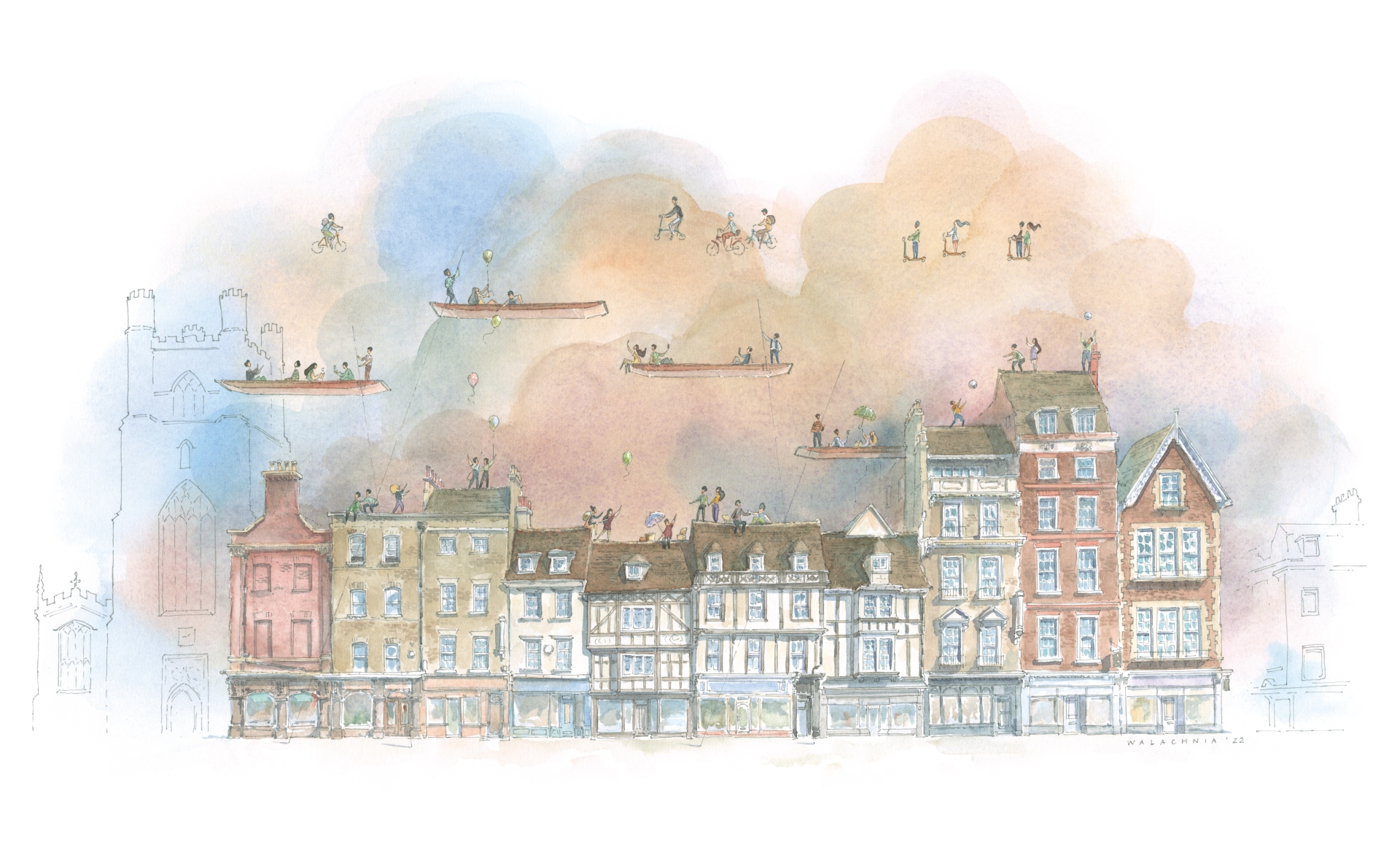 Radek Walachnia
Radek Walachnia is a contemporary artist based in Cambridge, UK, and the creator of the "Cambridge Fantastic" series of watercolour paintings. With a background in architecture and years of experience in the video game industry, Radek's unique style blends real-world elements with imaginative ingredients to create a surrealistic and magical vision of Cambridge.
The "Cambridge Fantastic" series portrays the city free of pollution and traffic jams, where people can use all the vertical space to walk, cycle, use rowboats gliding through clouds, air-punt, and enjoy their lives on all available levels. Radek meticulously researches the correct architecture but leaves space for the viewer's imagination to roam free. He also adds famous characters hidden within his art, such as Sir Isaac Newton accompanied by Charles Darwin, late Stephen Hawking, or even members of Pink Floyd performing on (or above) the streets of Cambridge.
Radek's "Cambridge Fantastic" series has been well-received by the public, winning a Cambridge Invitational Art Contest 2022, exhibiting with success as part of Cambridge Open Studios, and being displayed at Cambridge Castle Fine Art gallery and also decorating walls of Cambridge Registry Office.
Radek's unique take on the world around us and fertile imagination are a magical combination. His art captures the alluring power that beckons viewers into his unique take on the world around us, where the mundane is uplifted and imbued with humor and invention.
Website:  cambridgefantastic.uk
Instagram: www.instagram.com/cambridgefantastic/
Facebook:  www.facebook.com/cambridgefantastic